Surround Sound Installation
Surround Sound Installation - what are my options?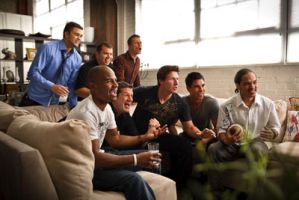 No matter the scenario, need or concern of an interior designer there is always a solution to integrate music in your home. 
Music in every room of your household (distributed audio)
Control from the comfort of your smartphone or tablet device
Soundbars, sometimes called LCR bars, that doesn't clutter the wall
Speakers to be mounted in the wall, on the wall, in the ceiling
Indoor and outdoor speakers
Speakers that look like rocks or that also serve as a flower pot
Want to build the perfect sound system? We can design something that will be the envy of all your guests! Make the most of your home theater with the perfect home audio system with wireless speakers, sound bars, CD players, and home theater receivers to create a surround sound experience your ears will love. Whether you have a small room and need slim speaker options that don't take up a lot of space, or you're looking for full-sized systems that have the power to fill a large room with sound, we can find the speakers you're looking for. Is wireless sound or a theater room surround sound installation an expensive endeavor? Absolutely not, not with Integrated IO®. For a free Surround Sound Installation In-Home assessment, contact us today!
Save
Save
Save
Save
The homeowner appeal of apartments, high-rise condos, townhomes, and multifamily residents is exploding. Whether it's Baby Boomers looking to downsize or Millennials creating a new version of the American dream by moving into the heart of the city, more individuals and families are opting to live in mixed-use communities.Control4 MDU Solutions enable industry-leading smart home solutions to homebuyers, including smart lighting, multi-room audio, home theaters, automated shades, security systems, temperature control and more!
Music is the unseen art that permeates our lives. We use it to celebrate, reflect, unwind, or create a mood. Have you ever attended a live performance in a venue with spectacular acoustics? For many, this is the pinnacle of musical gratification. What if you could recreate that experience in your home and feel the intimacy with your favorite artist through the detail of his or her work? With the Control4 line of Triad® audio products, it's possible to once again enter that room with the singer, the band, or the symphony.
Control4 entertainment solutions create the ultimate audio/video experience! Experience the latest 4K movies, stream high-resolution music, enjoy unlimited entertainment, or create an unbeatable home theater experience. Technology disappears and you simply interact with your favorite movies and music from any device, or with the simplest interaction method of all - your voice.