Surround Sound Installation
Surround Sound Installation - what are my options?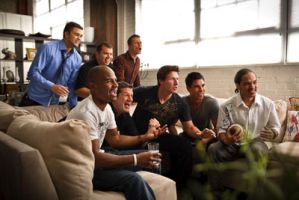 No matter the scenario, need or concern of an interior designer there is always a solution to integrate music in your home. 
Music in every room of your household (distributed audio)
Control from the comfort of your smartphone or tablet device
Soundbars, sometimes called LCR bars, that doesn't clutter the wall
Speakers to be mounted in the wall, on the wall, in the ceiling
Indoor and outdoor speakers
Speakers that look like rocks or that also serve as a flower pot
Want to build the perfect sound system? We can design something that will be the envy of all your guests! Make the most of your home theater with the perfect home audio system with wireless speakers, sound bars, CD players, and home theater receivers to create a surround sound experience your ears will love. Whether you have a small room and need slim speaker options that don't take up a lot of space, or you're looking for full-sized systems that have the power to fill a large room with sound, we can find the speakers you're looking for. Is wireless sound or a theater room surround sound installation an expensive endeavor? Absolutely not, not with Integrated IO®. For a free Surround Sound Installation In-Home assessment, contact us today!
Save
Save
Save
Save
Amazon's former director of Alexa Smart Home is now with Control4, which offers dealer-installed, luxury smart home setups that incorporate high-end audio/visual gear with countless brands and products from the connected home (including Alexa, and the Amazon Echo line of smart speakers). Integrated IO is a prefered installer of Control4.
We are incredibly excited to launch our new brand, Integrated IO. Our new identity is more broad in its scope and will tell consumers that if they can dream it, we can do it. We pride ourselves in being smart, so we can do all things SMART!
Modern technologies enable businesses to streamline their operations, enhance client engagement, and increase productivity. To maximize the benefits you can reap from new technologies, it's usually important for your employees to all be using the same software and apps. If you have employees who are resistant to change or otherwise skeptical about adopting new technologies, here are ways to persuade those employees to get with the program.