Surround Sound Installation
Surround Sound Installation - what are my options?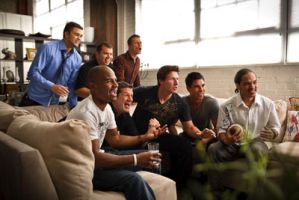 No matter the scenario, need or concern of an interior designer there is always a solution to integrate music in your home. 
Music in every room of your household (distributed audio)
Control from the comfort of your smartphone or tablet device
Soundbars, sometimes called LCR bars, that doesn't clutter the wall
Speakers to be mounted in the wall, on the wall, in the ceiling
Indoor and outdoor speakers
Speakers that look like rocks or that also serve as a flower pot
Want to build the perfect sound system? We can design something that will be the envy of all your guests! Make the most of your home theater with the perfect home audio system with wireless speakers, sound bars, CD players, and home theater receivers to create a surround sound experience your ears will love. Whether you have a small room and need slim speaker options that don't take up a lot of space, or you're looking for full-sized systems that have the power to fill a large room with sound, we can find the speakers you're looking for. Is wireless sound or a theater room surround sound installation an expensive endeavor? Absolutely not, not with Integrated IO®. For a free Surround Sound Installation In-Home assessment, contact us today!
Save
Save
Save
Save
A brief introduction to the history of home automation and a look at what is in store for the future of the smart home, as interpreted by a provider of smart home technology installation services in Phoenix.
An innovative home automation specialist in the Phoenix area addresses one of the industry's greatest hindrances.
Read this blog post to learn how the convenience- and comfort-enhancing properties of a smart home can curb a homeowner's carbon emissions and cut down on his or her energy costs.