Surround Sound Installation
Surround Sound Installation - what are my options?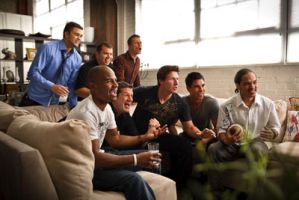 No matter the scenario, need or concern of an interior designer there is always a solution to integrate music in your home. 
Music in every room of your household (distributed audio)
Control from the comfort of your smartphone or tablet device
Soundbars, sometimes called LCR bars, that doesn't clutter the wall
Speakers to be mounted in the wall, on the wall, in the ceiling
Indoor and outdoor speakers
Speakers that look like rocks or that also serve as a flower pot
Want to build the perfect sound system? We can design something that will be the envy of all your guests! Make the most of your home theater with the perfect home audio system with wireless speakers, sound bars, CD players, and home theater receivers to create a surround sound experience your ears will love. Whether you have a small room and need slim speaker options that don't take up a lot of space, or you're looking for full-sized systems that have the power to fill a large room with sound, we can find the speakers you're looking for. Is wireless sound or a theater room surround sound installation an expensive endeavor? Absolutely not, not with Integrated IO®. For a free Surround Sound Installation In-Home assessment, contact us today!
Save
Save
Save
Save
When planning your next smart home project, why let your living room have all the fun? Create a picture-perfect patio, porch, or deck that leads to more time spent under the sun and stars. With some of the latest weather-ready technology pieces, you can look forward to easy outdoor entertaining for years to come.
Introducing Chime, a video doorbell designed and built for the Control4 Smart Home. It delivers everything you'd expect from a video doorbell plus leverages the power of Control4 to provide greater home security and keep you connected and in control like never before.
Your Home can be BRIGHT and BRILLIANT! Whether you're building a band-new home or remodeling a century-old estate, Control4 Smart Lighting supports all construction types with both wired and wireless solutions.