Surround Sound
Whether it is a navy ship crashing through the waves in a storm of epic proportions, a war horse galloping across a dry, desert landscape, or a running back crossing the threshold into the end zone for a winning touchdown, you probably want to be able to hear the sound effects that accompany the picture you are watching as if you were present, watching these events unfold before your eyes in person.
Want to feel like the symphony is performing in your living room? Whether you're a casual listener, an audioenthusiast, or an audiophile, you should love the way your music sounds in any room of your home. Products from Control4 can bring great-sounding music to every room of the house, and even any outside area. From the content to the amplifiers and speakers, the audio lines from Control4 have also been engineered specifically to combat low-quality, lifeless music.
With the right surround sound equipment and the assistance of a skilled home technology and wiring specialist, any sound desire can become reality.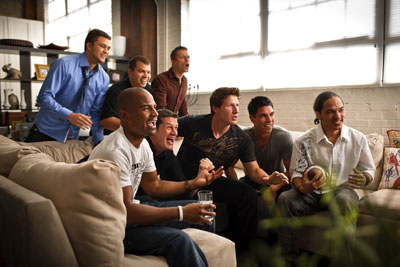 Surround Sound Installation
At Integrated IO®™, our technicians have the acumen to provide your home theater with some of the clearest, crispest sound in the Phoenix area. Familiar with virtually every brand and model of speaker and subwoofer, we can connect any sound system components you have to create a surround sound system that will be the envy of everyone you know. 
Surround Sound Design
In addition to connecting components and providing you with complete installation services, our home theater installation pros can draw on their design experience to arrange your speakers for optimal sound dispersion. No matter where in your home theater you are, you will enjoy high quality sound with zero feedback.
Surround Sound Automation
Our installation professionals are equipped with the tools and the know-how necessary to integrate speakers and audio control systems throughout your home. The next time you entertain, you can impress your guests with high quality sound in every room in your house. If there are rooms that you wish to keep quiet, simply adjust the controls in that room to keep sound from emerging from those rooms' speakers.
Smart Home Technology
Utilizing advanced smart home technology, Integrated IO®'s™ technicians can wire your surround sound system so that you can blast tuneage from your iTunes library, Pandora, Rhapsody, or a local radio station. We can even program your surround sound system so that it can be controlled from your smartphone, making skipping songs, creating transitions, and adjusting the volume of the audio in your home easier than ever.
You decided to design and build a home theater system so that you can enjoy theater quality audio and video from the comfort of your own home, right? Then don't settle for anything less. If you live in Phoenix, Scottsdale, Mesa, Glenda, Chandler, Tucson, or anywhere near any of these cities, Integrated IO®™ in Fountain Hills is your best option for aesthetic surround sound. To find out  what a 7.1 surround sound system can do for your home theater wireless speaker system, call (480) 836-1446! We pride ourselves on being at the avant-garde of the surround sound and home theater system installation services spectrum. For a free surround sound installation or other service estimate, fill out the form on the right.
Save