Control4 Voice Control – Speak Up! Your House Is Listening!
Aug 03, 2021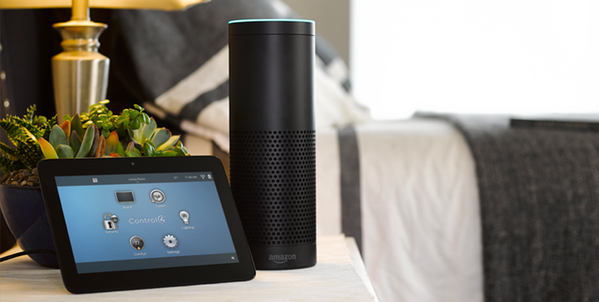 Is your Smart Home set up for voice control? Using Amazon Alexa or Google Assistant, you can control devices or your entire Control4 Smart Home with just your voice.
Voice control is an easy and convenient way for anyone in the house to interact with your smart home. The commands are simple. For example, "Alexa, turn on family room TV" or "Hey Google, dim the theater lights to 40%." Effortlessly activate music, turn on or off a single light or multiple fixtures at once, lock doors, or adjust the temperature, all without lifting a finger.
"Good Morning" - As you wake, envision a morning scene that slowly raises the shades, turns on the bathroom lights, and starts playing your favorite news station overhead as you get ready for the day.
"Good Bye" - As you leave tell the house to turn off the bedroom light, verbally command it to turn off the news in kitchen, and ask it to arm the security system.
"Good Evening" - Upon your arrival home, your evening scene can invite you in with lights that brighten the house, stream your favorite playlist, and secure doors while the garage closes itself.
"Good Night" – At bedtime, turn off every light in the house, lock all doors, ensure that all entertainment devices are shut down, dial back the thermostat, and arm the security system. All with just your voice!
Are you ready for the ease of voice control? Contact us for a Free Quote! Phone: (480) 836-1446
Add Pingback
Please add a comment
You must be logged in to leave a reply.
Login »