Lighting Control for Home & Business
Whether you are seeking to create the perfect ambiance in every room of your home, automate your lighting system so that every light can be controlled from the same remote, or reduce your energy costs and your carbon footprint without having to make any effort, Integrated IO® has the lighting control solution for you. Our advanced home automation technologies make it possible to control your lights from across the room, the other side of town, or halfway around the globe. Depending on your preference, your automated light system can be controlled from a keypad or a touch screen, such as your iPhone, iPod, or Android-powered smartphone.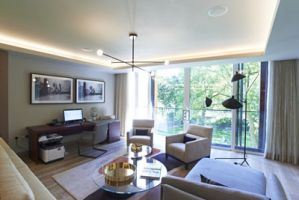 Lighting control systems options and benefits:
Scalability is key! Only automate the areas you see fit: Heavy traffic areas, conference rooms, that back bedroom or office light that always gets left on.
Automatic dimming of lights translates into a longer bulb, lower energy consumption and lower utility bills
Have lights turn on automatically to welcome you home 
Use motion sensors for hands-free illumination in the dark, or to deter burglars by not giving them a place to lurk
Integrate lighting with your security system and turn all lights on to 100% when in alarm or blink on and off to draw attention to the fleeing burglar
Turn off all the lights with a single touch—except for the kids' nightlights
Program the lights to shut off automatically when a room is unoccupied, at sunset, a specific time each day, or depending upon the amount of daylight left
Combine lighting with curtain control and the whole house looks lived in even when you're away
Increases the beauty of your home by properly illuminating every room as well as the exterior 
Saves energy, thereby reducing the amount of fossil fuels consumed and the amount of carbon dioxide released back into the atmosphere 
Promotes safety in the event of an emergency such as a fire, burglary, or home invasion
Simplifies use with clearly labeled keypads and touch panels for you and your guests
Makes your life more efficient by making it easy to turn rooms or even the entire house off with the touch of a button
Shades in conjunction with dimmers can create the perfect balance between the two sources of light to save energy and create an inviting environment. Dimming modifies the quantity of electric lights, which in turn are complimented by the proper shade fabric and control that filters daylight.

The options are endless with light sensors, intelligent systems

,

lighting control systems, wireless sensor networks,

energy saving dimmers, and so much more!
Save
Save
When planning your next smart home project, why let your living room have all the fun? Create a picture-perfect patio, porch, or deck that leads to more time spent under the sun and stars. With some of the latest weather-ready technology pieces, you can look forward to easy outdoor entertaining for years to come.
Introducing Chime, a video doorbell designed and built for the Control4 Smart Home. It delivers everything you'd expect from a video doorbell plus leverages the power of Control4 to provide greater home security and keep you connected and in control like never before.
Your Home can be BRIGHT and BRILLIANT! Whether you're building a band-new home or remodeling a century-old estate, Control4 Smart Lighting supports all construction types with both wired and wireless solutions.