Theater Design & Engineering
Have you started to consider the possibility or are you in the process of planning a home theater? Just exactly what creates a great home theater experience? We are here to help! To make sense of it all, it is a good idea to step back and consider what is possible, and what is essential to attain the results you desire. Here are three key ingredients of proper home theater design. To find out about the highest quality home theater installation services in Phoenix, which also happen to be the best deals in town, call us today!
Room Size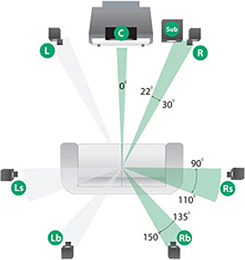 The design of your home theater plays an integral role in the extent to which you will be able to enjoy multimedia from the comfort of your home. In the USA, home theater design experts recommend positioning the TV or LCD screen that serves as the theater's focal point some 12-15 feet away from the theater's primary viewer seating. When mounting a TV or screen, most professionals shoot or the consensus-agreed position that the optimal eye level for viewers is slightly above the center of the screen. A truly talented home theater design and installation professional, however, can create a masterful theater design, optimizing the audio and visual experience afforded by the theater and hiding unattractive home theater components, in a room of just about any size. For visual and acoustic purposes, rooms with a length of at least 15 feet are ideal. The width of the room is less important, at least as far as covering up wires on walls, managing cable concealment, and utilizing the best option or aesthetic surround sound are concerned. 
Seating Location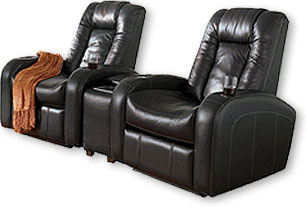 Coordinating the seating of your viewers is an important part of home theater design. Get it right the first time and your home theater experience should be smooth sailing from the get-go. Get it wrong, and you and your friends may suffer eye strain and stiff necks as a result of your  and you will have a poor experience, and can even end up with neck cramps as a result of your viewing experience. Hire Integrated IO®™, LLC's home theater experts to design your home theater, and discover the benefits that come with ideally spacing out your seating and your smart home collection TV.
Component Location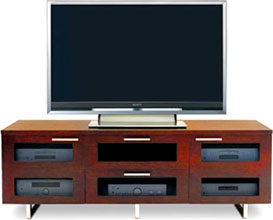 Components are important to the design of the home theater for a handful of reasons. First, they are essential to the theater system's functions, and thus the overall viewing experience. Second, they can provide homeowners with invaluable conveniences such as remote control of sound, audio, lighting, climate settings, and playback. With a smart home collection TV and a Contol4 smart appliance hub, you can can the lighting in every room of your home and view feed from the outdoor surveillance cameras for horses you have installed in your yard or at the stables. Since some of these components may appear bulky and out-of-place in a home theater,  you can benefit from having a commercial home theater installation design professional hide wires in your walls, manage your cable concealment, and place less attractive components in aesthetically pleasing home theater furnishings like cabinets and end tables.
Save
Save

Integrated IO® Certifications and Memberships
Amazon's former director of Alexa Smart Home is now with Control4, which offers dealer-installed, luxury smart home setups that incorporate high-end audio/visual gear with countless brands and products from the connected home (including Alexa, and the Amazon Echo line of smart speakers). Integrated IO is a prefered installer of Control4.
We are incredibly excited to launch our new brand, Integrated IO. Our new identity is more broad in its scope and will tell consumers that if they can dream it, we can do it. We pride ourselves in being smart, so we can do all things SMART!
Modern technologies enable businesses to streamline their operations, enhance client engagement, and increase productivity. To maximize the benefits you can reap from new technologies, it's usually important for your employees to all be using the same software and apps. If you have employees who are resistant to change or otherwise skeptical about adopting new technologies, here are ways to persuade those employees to get with the program.