Outdoor Security System
Equestrian Property Surveillance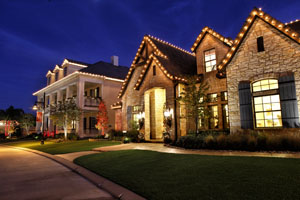 Background
This client lives in rural area with a large property designed to raise show horses.  It goes without saying there is a large investment of not only money but time and resources that goes into breeding, raising and showing these animals.  A pregnant mare, a newborn foal, even the large quantities of expensive alfalfa that must be on hand at all times, must be kept under constant surveillance.
Vision
The client wants to be able to keep an eye on her prize winning horses.  Whether it be a bump in the night or a trip out of the country knowing her animals are safe and being properly cared for is top priority.  
Solution
The ECL-578 high resolution compact camera
It's waterproof, it can see in the darkest night thanks to a built-in radiant IR subsystem, and it has vandal resistant features that protect it from common abuse.
ECL-580 camera w/IR and Varifocal lens
Along with very high resolution video, and a 2.8-12mm varifocal lens that can be adjusted using external controls, this camera boasts superior color reproduction provided by the Sony EXview video sensor and Effio video processor chipset.
Wirepath Surveillance 4 Channel DVR (Digital Video Recorder)
The WPS-100-DVR-4CH is the most advanced DVR in its class, offering unsurpassed technology, features and easy-to-use remote access from a Windows Computer,iPhone or Android device. With H.264 compression, you can record the highest quality, full D1 video on all four channels to the built-in 500GB hard drive -- or maximize recording time with space-efficient CIF resolution. Plus its compact chassis means you can easily tuck it under a retail counter - or in a closet or rack for residential estate monitoring.
Eclipse's high resolution, day/night cameras with wide dynamic range functions, to compensate for bright outdoor lighting contrasted against horses lounging in a shaded stall, coupled with SnapAV's 4 channel DVR satisfied the clients need for 24 hour surveillance with onsite and offsite viewing.  SnapAV offers free DDNS Service (Dynamic Domain Name System) for offsite viewing but also a free smart phone app with full control of your DVR.
This is another example of seeking technology for a solution in a not so common situation.
Save
Why does the network matter? From maintaining a comfortable temperature, to streaming music and movies and even keeping our homes safe and secure, there is an ever-growing ecosystem of products on which we rely that are becoming smarter and more sophisticated. Without a reliable and efficient network, even the smartest devices are rendered dumb. Each connected device adds strain to a home network, impacting both the throughput and, ultimately, the availability of a wireless connection within the house. This is why the network has quickly become one of the most important systems in your home.
Many people think of smart home technology as something that will keep out intruders and make you comfortable in your home. And smart home technology can definitely help you to do that. But it can also help you to do something more i.e., stay healthy. At a time when it's important for everyone to stay safe and healthy, you can make use of smart home technology to turn your home into a clean and hygienic environment.
Add value to your home. It used to be granite countertops. Today, it is smart home technology. With Control4, a press of a button dims the lights, sets the temperature, and arms the security system. One app controls virtually all of the connected devices and systems in the house. By using Control4 Smart Home products, you're stepping up to deliver an unmatched connected lifestyle.