Create the Ultimate Backyard Experience with Control4
Apr 06, 2021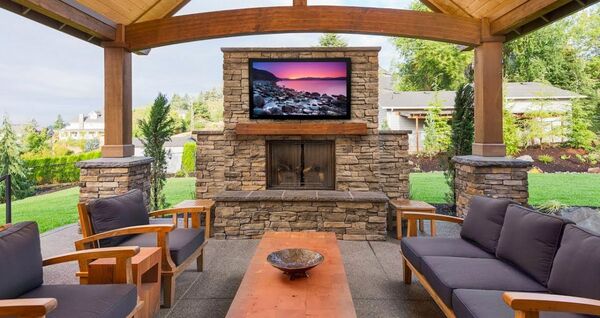 When planning your next smart home project, why let your living room have all the fun? Create a picture-perfect patio, porch, or deck that leads to more time spent under the sun and stars. With some of the latest weather-ready technology pieces, you can look forward to easy outdoor entertaining for years to come.
A Firepit that's More Than Lit
Nothing brings people together like a roaring fire. Contemporary "smart" fireplaces provide an intimate experience with all the convenience of connected technology. The iFlame app, when integrated with an outdoor fireplace from Heat n Glo, helps you create the perfect ambiance for an outdoor or indoor soiree. Heat n Glo fireplaces and firepits can be permanently installed or something you move around your yard. Available in wood or gas, these smart-home-enabled fireplaces are a great accent piece as well as an informal gathering place for groups.
Music to Your Ears
Keep on rockin' even when the party moves outside. Now it's easier than ever to bring your favorite tunes into the alfresco thanks to outdoor speakers built to withstand the elements. Outdoor & Landscape Speakers from Episode produce a rich, powerful soundscape and blend seamlessly with the natural beauty of your backyard. Designed to be either the centerpiece of your patio or hidden away disguised as rocks, Episode's industry-leading technology offers gorgeous sound in open-air environments. They are available in different finishes and colors to fit right alongside your existing landscaping, perfectly suited whether you're playing to a concert of one or providing background music for a larger event.
A Screen Built to Be Seen
Watching television outside is the ultimate luxury; just don't attempt this with an indoor TV—indoor and outdoor TVs are not created equal. You'll need a television with weatherproof features as well as wall or ceiling mounts that can cope with Mother Nature's worst. Look no further than the Sunbrite line of products. All Sunbrite TV models are excellent for outdoor use, whether you're revamping a shaded veranda or going full sun by the pool. With the vibrant clarity of 4K Ultra HD, additional brightness levels and TruVision™ anti-glare assistance, this TV is ready to take center stage at your next backyard BBQ.
Light Up the Night
The best outdoor tech gadgets operate in a green, sustainable way. With the sun above us, solar power is highly cost-effective and eco-friendly. Many outdoor solar lights are perfect for all weather conditions and easy to install, too. Illuminating! AmeriTop Solar Lights produce a whopping 5000K bright output, assisting with your home security in addition to lighting up the night. These lights have an innovative design with three heads to cover a 180-degree sensing angle out to 49 feet. They can be installed almost anywhere in your yard and adjusted to fit your personal specifications. With a high-efficiency solar panel, they can grab a full charge even on overcast or rainy days.
This year transform your green space into a source of enjoyment and relaxation! The right pieces of technology add functional style and organization to backyards of all sizes. From specialty TVs to smart fireplaces, the sky's the limit for creating your ultimate outdoor retreat.
Contact us to find out more today!
Phone: (480) 836-1446
Email: integrateme@integratedio.com
Save
Add Pingback
Please add a comment
You must be logged in to leave a reply.
Login »