Control4 Automation Systems RV Integration
May 04, 2021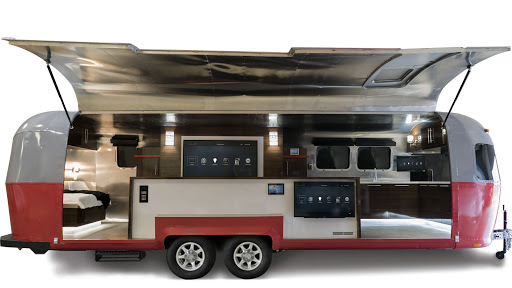 Automation systems are crafted for the home, managing the lights, thermostats, and AV equipment so that your life is simpler and more enjoyable. While home may be where the heart of an automation system usually resides, it also travels well. Really well.
Your home-on-wheels can have all the comforts of home, including TVs, streaming music, and surveillance cameras strategically positioned to provide a glimpse of the exterior of RV without having to step a foot outside. Designed and installed by the smart home professionals at Integrated IO, your Control4 system and connected AV and security equipment can make your RV what you've always dreamed of. Live with the conveniences of smart lighting and climate control every day on the road or at your favorite vacation spot.
Control4 Smart Home operating systems can be tucked neatly into a storage compartment. A quick tap of the Control4 app on a mobile device or remote is all it takes to watch a favorite series, YouTube video, streaming music, or view selected surveillance cameras on any or all of the TVs that can be located anywhere inside and outside of the RV. No matter if the RV is parked or cruising the open road, the Control4 systems set the pace, delivering entertainment, security, and easy control. Make your RV feel like a home away from home.
Considering a smart home RV integration? Contact us for a Free Quote! Phone: (480) 836-1446 E-mail: integrateme@integratedio.com https://www.integratedio.com/smart-home-installation/
Add Pingback
Please add a comment
You must be logged in to leave a reply.
Login »